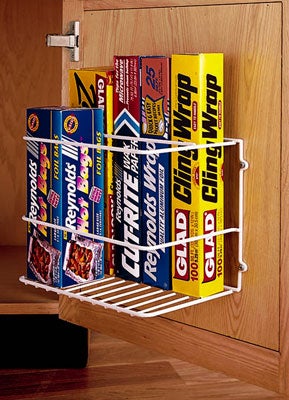 Do you have a small kitchen?
Gentle readers, Boyfriend and your MatchGirl are in a constant conversation as to how to better organize our tiny, tiny kitchen. Something we've yet to agree on is how to store those boxes of aluminum foil, plastic wrap, Zip-Loc bags, parchment paper, etc... Boyfriend likes to have them handy on a shelf near the stove. I'm not so sure that's the best use of that space.
Perusing the best website ever (ie
ContainerStore.com
) this morning, I came upon some organizational ideas for these annoying, yet necessary, little boxes.
This I see a kitchen organizing project in our future...